Next morning, I can't seem to get myself together. Feeling quite anxious and my need to return to Athens grows stronger by the second. In an effort to unwind a bit, I decide to stay inside until late afternoon. What I can share with you now is that, neither keeping notes about this trip, nor watching the news helps in cooling off… Anyway, here I am again at the theatre to attend Honoré Ndayishimiye's painting workshop. There is but a handful of participants, yet they are all very motivated. I let my camera aside for a moment and I join the workshop. Obviously, I find painting far more relaxing than watching the news. Just before the workshop's end, we talk with Honoré about his life in Liège and his multi-faceted work as an artist.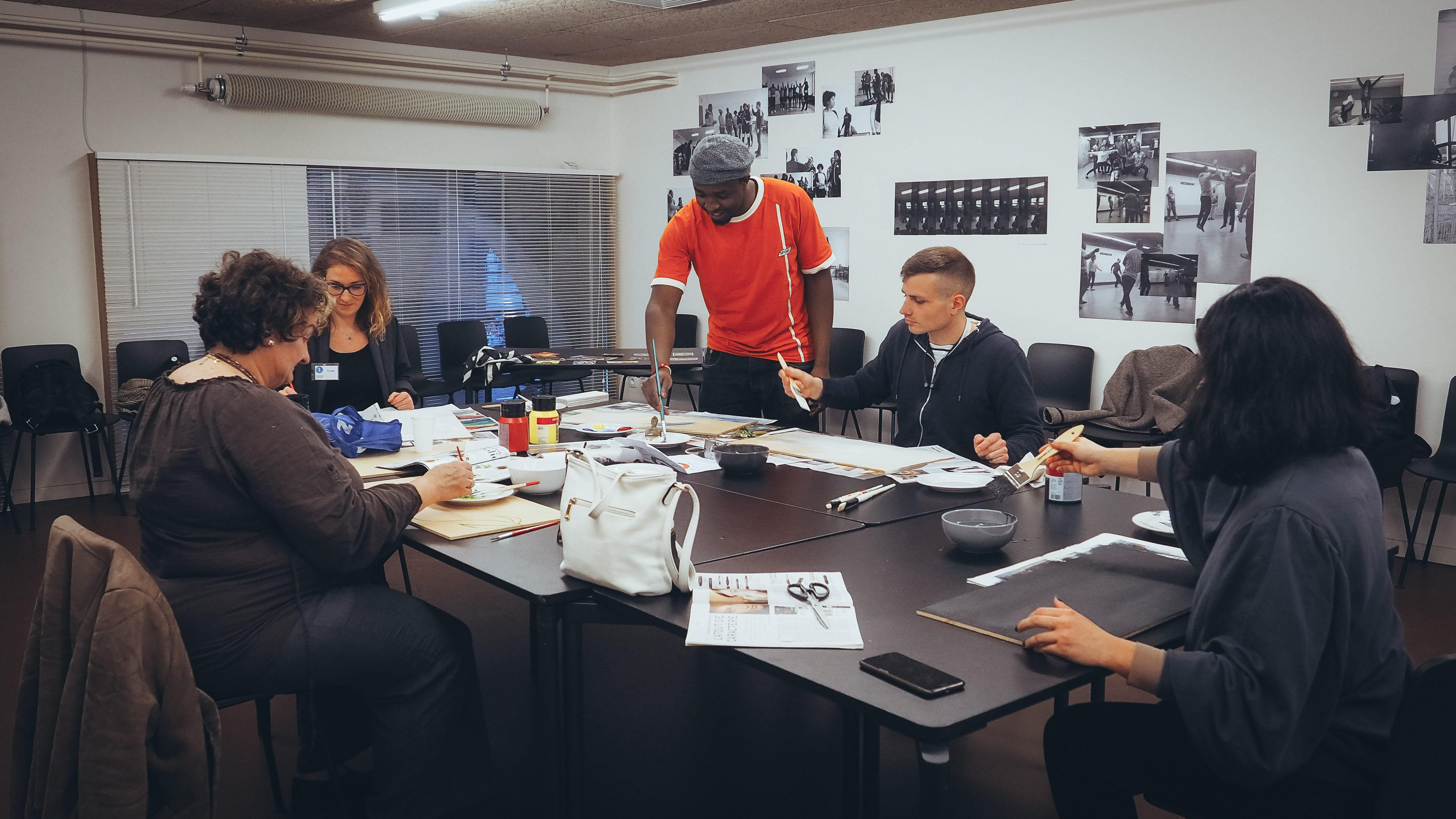 Another performance awaits for me, after having another coffee, a substance that becomes more and more a fuel during these trips. "Le chef est chef même en caleçon" is an autobiographical, stand-up performance, brought to us by Dominique Bela, who entered the world of theatre by accident, almost because he wanted to escape his boredom and evade from the asylum seekers' centre. The way he shares his story is exhilarating and heart-breaking all together. Through our talk after the play, in response to my asking why an autobiography, he will tell me that he chose "to tell a small story in order to talk about a big one…". I also learn about his project "MigranStory", that focuses on shifting the disdainful narrative regarding migrants and re-establish a respectful attitude towards them. A few moments before ending our interview, the television's volume at the theatre's foyer raises. The Belgian Prime Minister, Sophie Wilmès is announcing the cancelation of all recreational activities, as well as the closing of bars, restaurants and schools, but still no lockdown. The measures just got harder and so the rest of the Atlas of Transitions festival at Théâtre de Liège is cancelled after all. I do not know whether I should feel relieved or sad. Most probably I am feeling both on equal terms. Serge and Hélène are not taken by surprise. Everybody knew this was bound to happen, we just hoped things were different and these announcements would never have to be heard. My sense of relief is shaken, when the team kindly reassures me that in case I need a place to stay, they could accommodate me without any problem. What if I can't return to Greece?
First thing as I wake up, I manage to change my flight for the next morning. I visit the theatre to say goodbye to my colleagues and have my last interview, with Serge. Inevitably, we talk about the Covid-19 crisis and how does it affect, not only our work, but our lives in general. I ask him about Liège and its migration policy, since one of the festival's most interesting talks on the matter, sadly will not take place and I won't be able to meet the invited representatives from the municipality. Serge confirms the image I started creating about Liège and its relation with migrants. This society's openness towards the 'other' is quite exceptional, in terms of concrete application of its policies and honesty to their approach. Almost a dream city, Liege has found herself (yes, for me cities are of feminine genre) in these times of nightmares, along with rest of the world.
We join the rest of team having lunch and as I am about to leave for good, I am pleasantly taken by surprise. Rami, one the local people invited to participate in the festival with a very particular event, rushes through the door. We grab the opportunity and we decide to have an interview on the fly.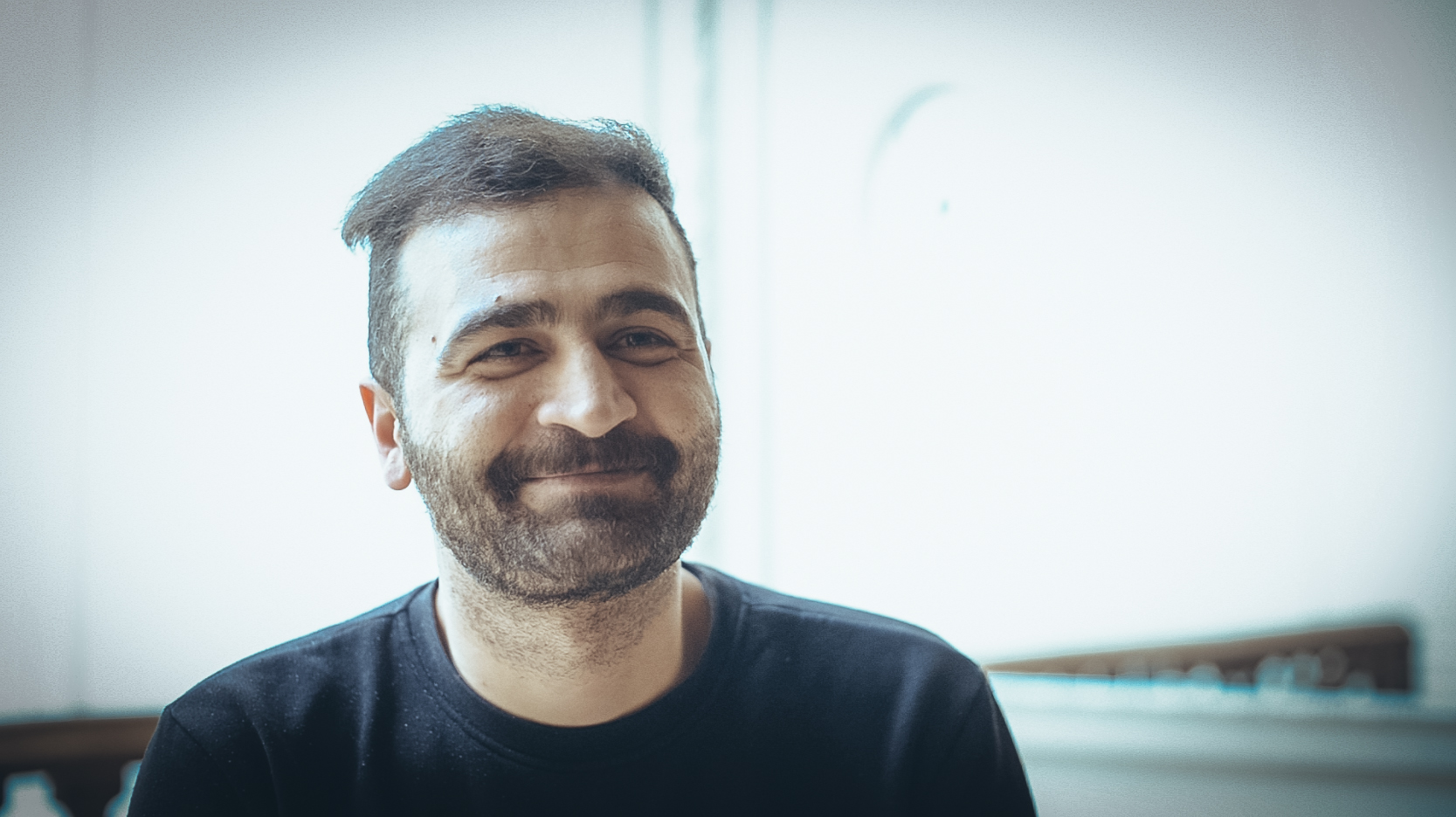 L'ami Rami – the friend Rami – as people call him here, is a wonderful, straight-forward person whose words fill my heart with hope, as I hear his stories. Driven by a personal need of company and friends as a newcomer in Liege, he got to create a common space of gathering and sharing by inviting people to eat at his place.  These are the weapons we need to fight against cruelty, because the victims are already way too many and the margins are closing in on us fast. I am really glad to have finally met Rami and that the last souvenir from Liege I am taking home with me, is this smile. At Brussels airport, just before boarding, in between announcements of flights cancelled, I am thinking that the days I have spent here must be some of the longest ones in my life. With everything going on at the moment, time seems to be so very condensed and thoughts and feelings weigh more than usual. As I leave Belgium, I will leave you with Rami's moto: Strong together.
Until next time, take care…
Spyros
P.S.: Hélène, Edith, Jean, Pierre and Serge, thank you for your passion, your energy and your hospitality…
P.S.2: Rami, we owe ourselves a dinner together, with Syrian and Greek cuisine…
Continue to page 4 of 4