Last day of activities at the theatre. My entire morning -until early evening- is filled with meeting people… Seems I won't be having enough time to wander a bit more in the city after all… Nevertheless, I have the chance to experience a peculiar situation. I spend almost all of my day at the theatre's meeting room. It feels as if everything has slowed down and I have become a fixed point in time and space, as my 'guests' are succeeding one another. I get the impression that, even if I don't get to walk around and explore Gothenburg, all kinds of the city's different faces are presented to me through my interlocutors' distinct personalities, origins, visions and beliefs.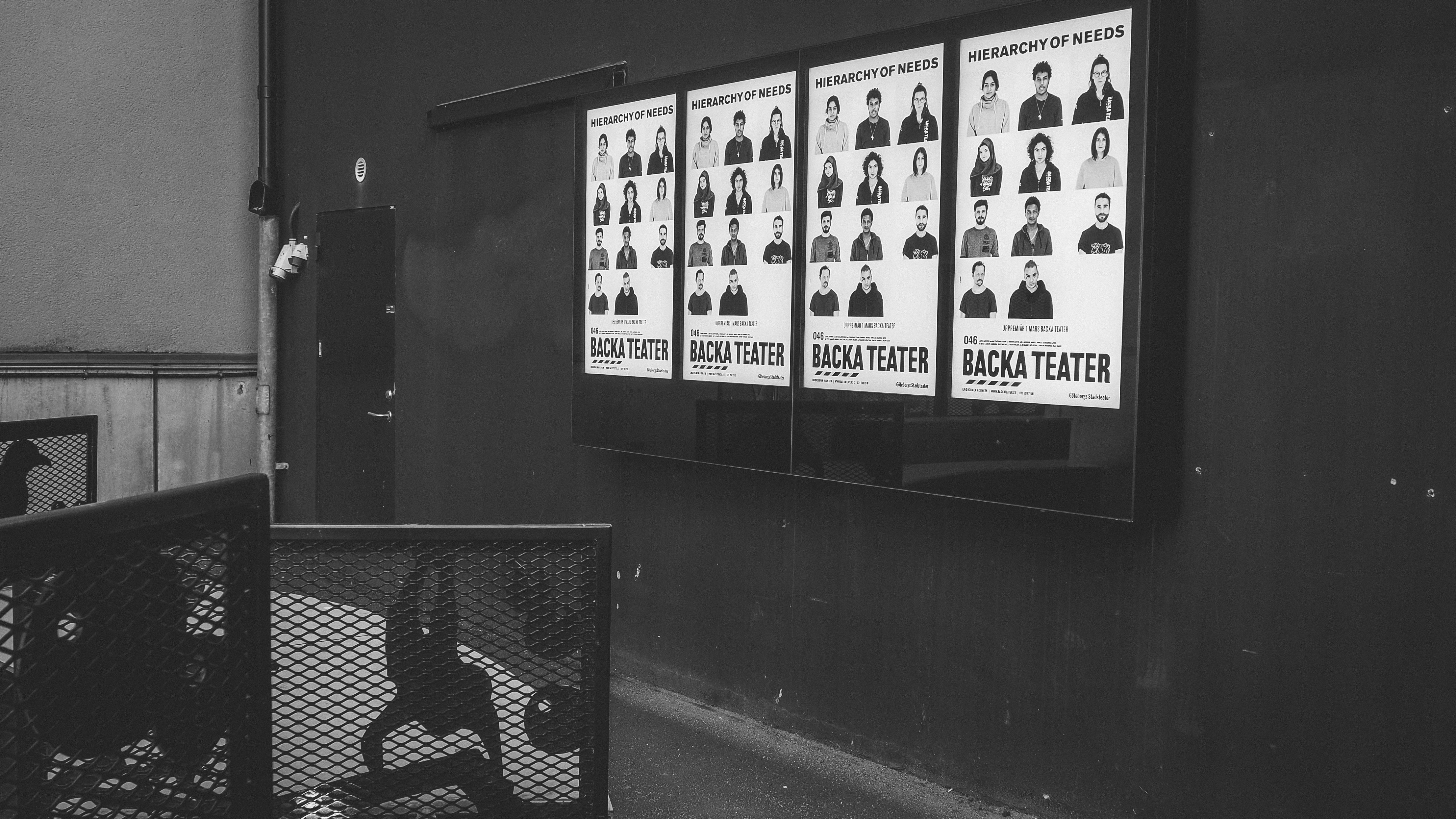 Within a few hours, I get to meet Sweden through Eleftheria's story, a Greek actress that came to Sweden when the crisis made things quite unbearable back home. I learn more about the creation of "Hierarchy of Needs" performance and Gothenburg from Mattias who makes a significant point on "how we should not take any cultural context for granted". I will meet with Stefan, Rasmus and Josefin and talk with Ali, about his experiences as a newcomer in Sweden from Syria. All these people are members of the Backa Teater group of artists. They are the diverse elements the theatre's core consists of. The different people that give life to the unified creative entity that is Backa Teater. It's through them and their work, a multitude of voices find a space, both literally and metaphorically, to be heard, to express their needs and wants for a different present and a better future. As Josefin says: "When we started working on the performance, we didn't want to portray the 'other'…". And this what I find amazing with Backa Teater's work. Apart from theatre, they create something else, even more important; the conditions in which young people will be able to think and feel freely and eventually they will remember that experience for the rest of their lives.
During this condensed period of time, two things strike me the most. The first is the fact that all locals describe Gothenburg as a highly segregated place. Intrigued by this recurrent statement and after a short research, I see that the issue is far from recent and has been the subject of numerous researches (e.g. [1] [2] [3] [4]) during the last decade. Taking a dive into the matter would allow one to get a clear idea of the current social landscape of today's Gothenburg and other Swedish cities. This knowledge somehow justifies the strange feeling I had while exploring the city. A lively place, yet calm in a bizarre way, or 'laid back' as Stefan puts it. A city that is very welcoming and easy to go-around in a 'user-friendly' way, but in the same time, one could feel that some things are left somehow unclear, as in a state of social 'misunderstanding'.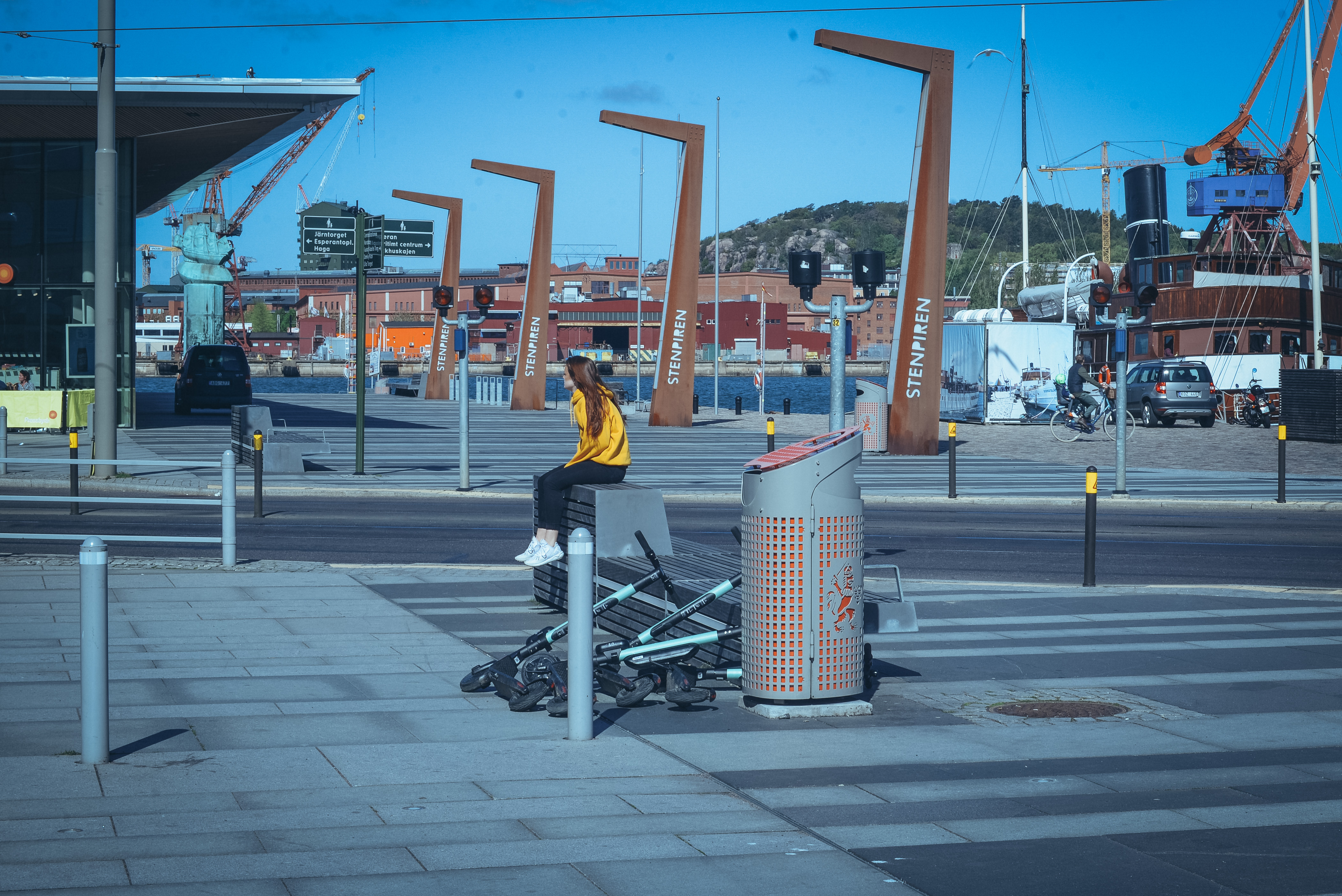 Maybe this is what Ali describes, while talking about his experience with Backa Teater and his life in Sweden, by saying that "there is a system here that works well, but as in every system always something goes wrong". A possible answer to the question of why things go wrong – why do we fail to address the current social issues in a creative and functional way – comes from Rasmus, in an introspective moment as member of the Swedish society. Who failed after all? "Who is they?" he says in a rhetorical question. Before leaving the interview limbo zone, I have a short chat with Mohammad, who shares with me a few words on the latest "Damascus 2045" performance, a production of Powszechny Theatre, our Polish partners in Atlas of Transitions.
This loaded day is closing with us attending "Lawrence of Arabia", the previous performance produced by Powszechny Theatre, directed by Weronika Szczawinska. From the whiteness and soothing clarity of the meeting room, I find myself right in the eye of a colourful tornado.
The set of the performance is without any doubt, the protagonist of the play, supported by the actors' costumes, crafted in a similar bright and vibrant way. Our Polish friends came up with a way to turn around the 'misfortunes' of their creation process to their benefit, as Weronika explains. The actors share with us a series of migrant stories and thoughts in a bitter-sweet way, aiming to breaking the stereotypes of migrants, by exactly placing them in the very front row. They invite us to review our prejudices and reject all clichés defining the way we look at the issue and dictate our actions and reactions. They will make us laugh, they will make us cry, they will make us feel. At one point, I catch myself having my eyes fixed on the overtitles screen. It reads: "This is the world. North, South, East, West. She's from here". Inevitably, I think of M.I.A.'s "Borders". Borders, politics, police shots, identities, your privilege, broke people, boat people, the realness, the new world… Can we keep up an order…? Later in the evening, we talk about all that with my colleagues on a farewell dinner at the city centre.
My last morning in Gothenburg. I have the chance to meet again with Malin. We go for a big walk around the city. Around the city centre, through Slottsskogen park and back. Yes, this city is really easy-going, yet I do not feel completely at ease. As if there is a constant reminder that won't let me relax and enjoy our walk. I try to ask the seals and the penguins at the park's zoo. They wouldn't answer. I guess I will have to figure it out by myself…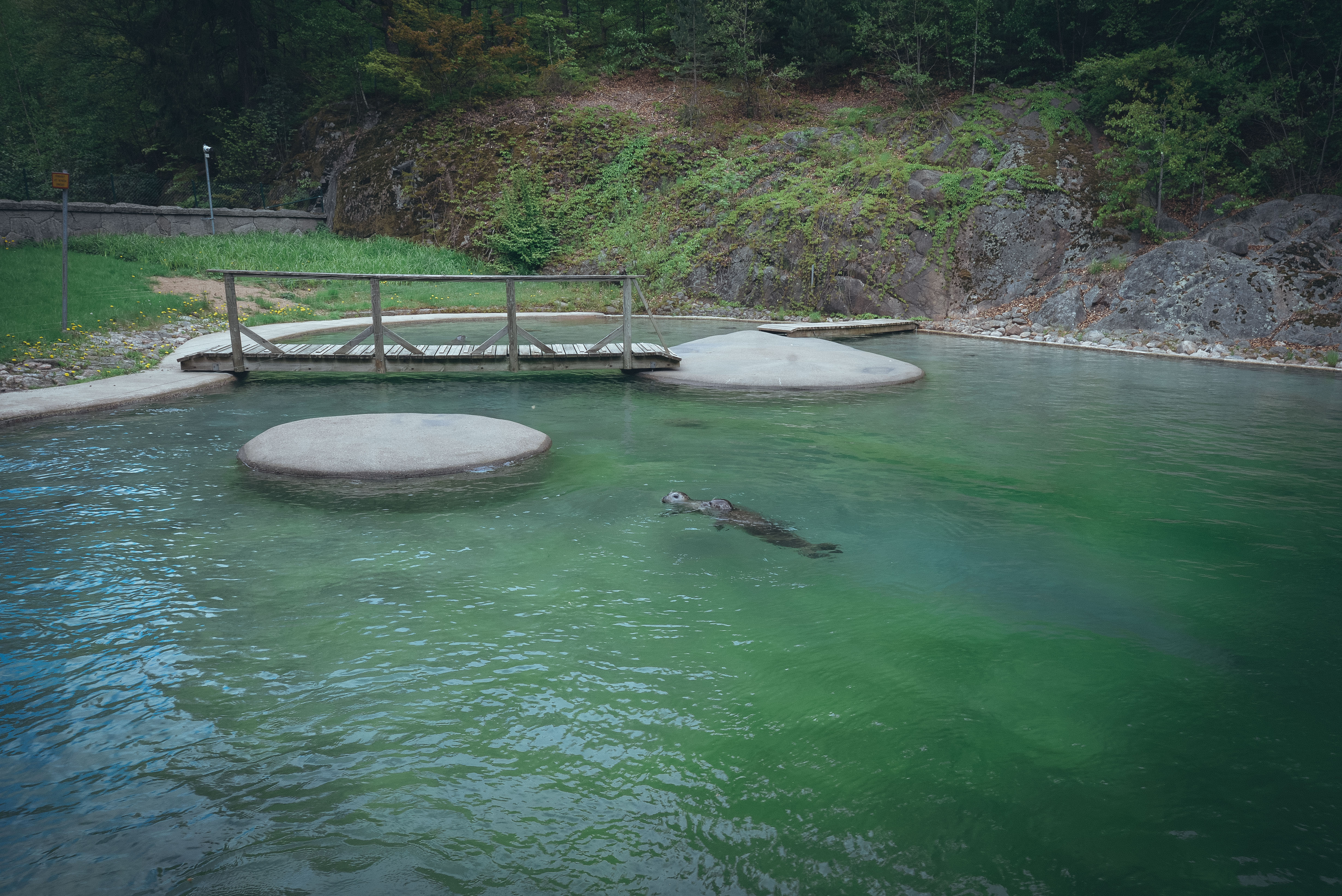 Here, I would like to thank everyone at Backa Teater: Anna, Mattias, Lisa, Stefan, Eleftheria, Ali, Rasmus, Josefin, Adel, Erika and the whole team from Hierarchy of Needs, for their hospitality, openness and assistance. A special thanks goes out to Hemen for sharing with us any additional footage from the local activities. And last but not least, my dear friend Malin, who has been more than wonderful as a host…
Spyros
P.S: I woke up with M.I.A.'s "Borders" still ringing in my ears… One sure thing is this world needs a brand new rhythm…
Explore the photo gallery