After returning home from Bologna, I realized that what has mostly defined my overall feeling about my visit there was, strangely enough, the passing away of two people during these days. Two people I have never personally met, yet in a way I feel strongly connected with. The first one is Yiannis Behrakis, renowned photojournalist and senior editor with Reuters. The second one is Keith Flint, dancer, singer and frontman of The Prodigy. To my opinion, they both had one thing in common besides sharing a unique passion for their work, and this would be an extremely direct connection with their times. At such extend, where the later had become (and always will be) a symbolic figure of the youth's expression of resistant dynamism and disregard to the norms, as to the former, he was the eyes of the global community, revealing the human cruelty and compassion alike, through his testimonial images. Yannis Behrakis once said: "My mission is to tell you the story and then you decide what you want to do, my mission is to make sure that nobody can say: 'I didn't know'".
Funny thing is that, when during our interview with Piersandra Di Matteo (curator of Atlas of Transitions Biennial) and Cosetta Nicolini (project manager/coordinator of Atlas of Transitions from ERT), I asked about the role of culture regarding the issue of migration, Cosetta came to use the exact same words. Culture is there so people could not say "I didn't know…" and this philosophy is reflected all the way through their approach of the 2nd edition of Atlas of Transitions Biennial 'HOME', that took place from the 1st to the 10th March, 2019 in Bologna.
He who eats alone, dies alone…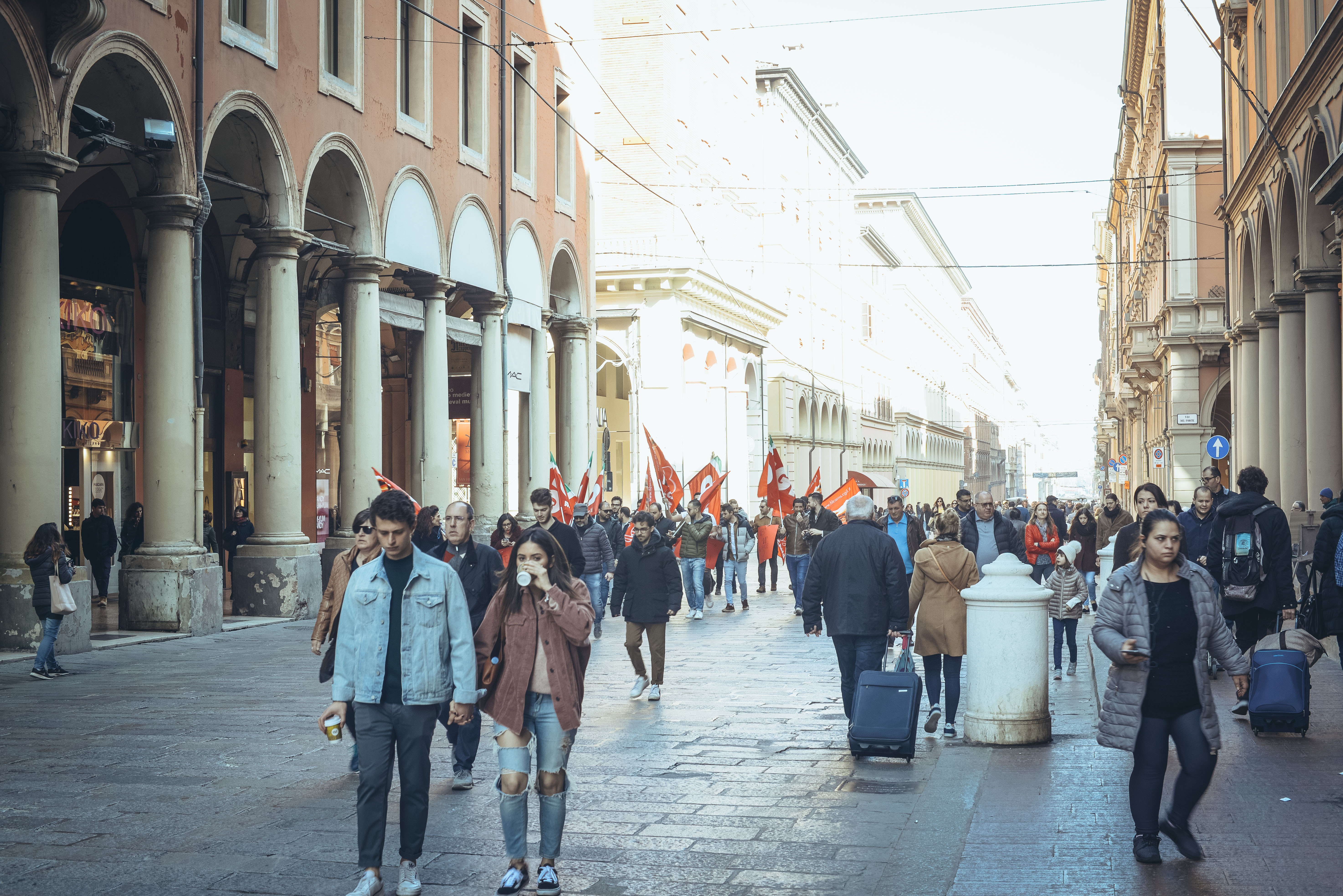 Walking down Via delll'Independenza (Street of Independence) I cross ways with a small demonstration block. The slogans echo in the large medieval street with the modern shops. A bit later I will learn that at the same time, more than 200.000 people were demonstrating in the streets of Milan, against racism. Times in Italy are tough, there is an apparent rise of the extreme right, yet people here seem concerned.
I witness that every evening at DAMSLab (the Department of Arts of the University of Bologna) , during theSchool of Integration lessons, a section of the festival where various foreign communities of Bologna, come to meet the audience, their co-citizens. What is really striking is that these exchanges do not take place under a veil of mere exoticism and, even though each community is sharing their particular cultural idioms, the prevailing feeling is the one of contiguity. Neighbours meeting neighbours. It seems to me that Bologna centre's structure is promoting this feeling of togetherness. The narrow streets instead of being physical borders defining housing blocks, actually function as shared spaces connecting places. And people. And you see these people walking around their city, all day long. It is not by accident that Bologna is one of the few cities I have been, where the central axes are closed to car circulation and transform the centre into a very welcoming public space to live and explore, for inhabitants and visitors alike. In that very same public space, another very interesting activity is taking place.
Within the frame of Tania Bruguera's Referendum project, a number of ballots is spread throughout the city. The citizens are invited to position themselves towards an intriguing question that came up during Tania's workshop with local participants: "Borders kill. Should we abolish the borders?". The impressive participation of the people, of more than 2.500 votes in just a few days, confirms the feeling that the community here is far from indifferent regarding the current social issues tormenting our society.
Later that day at DAMSLab I have the opportunity to attend to Nadia Beugré's performance "Quartiers Libres". The performance is nothing less than a merciless punch in the stomach. In most performances there is a tendency to unconsciously identify with the leading character of the play or main performer. In Nadia Beugré's case is by resisting to this identification that the audience becomes self-aware. When in such a close contact with a suffering body, it feels as if one finds him/her self in front of a broken mirror, seeing but a reflection of human violence, injustice and rejection. As Nadia put it during our talk, it's the energy of the streets, she's trying to bring on stage and it works…