At the balcony of Backa Teater. I start writing while, after two days full of rain and grey, a majestic sun floods Gothenburg with light. The blue and yellow of the Swedish flag are in the picture. A blue sky covers the multi-coloured city. This was my first impression even before landing at the airport. Green everywhere, around and inside the city. And then more colours, the sea, the buildings… It took me a while to understand what's making me feel strange here, in a way I cannot yet explain with certainty. Would it be the absence of noise? Almost no traffic at all, no raised voices in the streets. An ambience quite far from my Greek reality. As far as was my first time having to answer questions when passing the passport control on arrival. There was nothing hostile or menacing in the way the police woman asked me about my reason of visiting or why my identity card is a bit torn around the edges, as if somewhere deep down inside her mind, an, almost inexistent, spark of suspicion of forgery had lit for a glimpse of a second. "It's because it's old…", I answer with a smile, throwing her a lifesaver, bringing her right back to the surface of plain logic. She shares a very warm and welcoming smile and lets me through. Being especially focused on migration issues due to our work in Atlas of Transitions, this -normally meaningless- incident, generated a chain reaction of thoughts about control, borders and human contact. Right behind me there is a group of migrants, escorted by police officers, queuing for passport control.
Next day, having spent the whole morning working indoors, I take advantage of the rain pausing and I meet my friend Malin who lives in Gothenburg and I haven't seen for years. She takes me for a short walk in the city and answers some of my questions. What I can say for sure is that Gothenburg doesn't feel like a city of almost 600.000 people… Very calm for that, very clean, very nice… Or is it too calm, too clean, too nice…? One doesn't easily feel the concentration of inhabitants. We board the ferry to cross from Stenpiren to Lindholm, where Backa Teater is located. A beautiful building with an amazingly positive and creative energy. No wonder why people working here look so happy. I meet again old friends, Anna and Matthias are there, and I some new ones as well. Stefan Åkesson, Backa's dramaturgist will later give me some insight on the social structure of Gothenburg, hence my feeling of 'quietness' in the city centre.
In the evening, we are attending "Hierarchy of Needs", the performance Backa Teater has created within the frame of Atlas of Transitions project. The play was written by Adel Darwish and directed by Mattias Anderson, Backa Teater's artistic director. Before sharing my own impression, I am inviting you to discover a few thoughts by Adel. Regardless the fact the play constantly revolves around theatre by using terms of the trade, actors' inside jokes and more, it never gets either boring or self-involved and speaks to the audience. The people's reactions and attentive presence prove it so. During the play, 'concealed' actors keep jumping out of the audience, at a level where I start wondering whether I should join in as well. What this group has manage to set on stage is a convivial atmosphere, intimate in its simplicity and improvisation-like approach, accentuating that whatever feeling we experience is happening 'here' and is conceived 'now'. And the overstressed link with the present created, connects us directly with our "extra-theatrical" present. Our lives.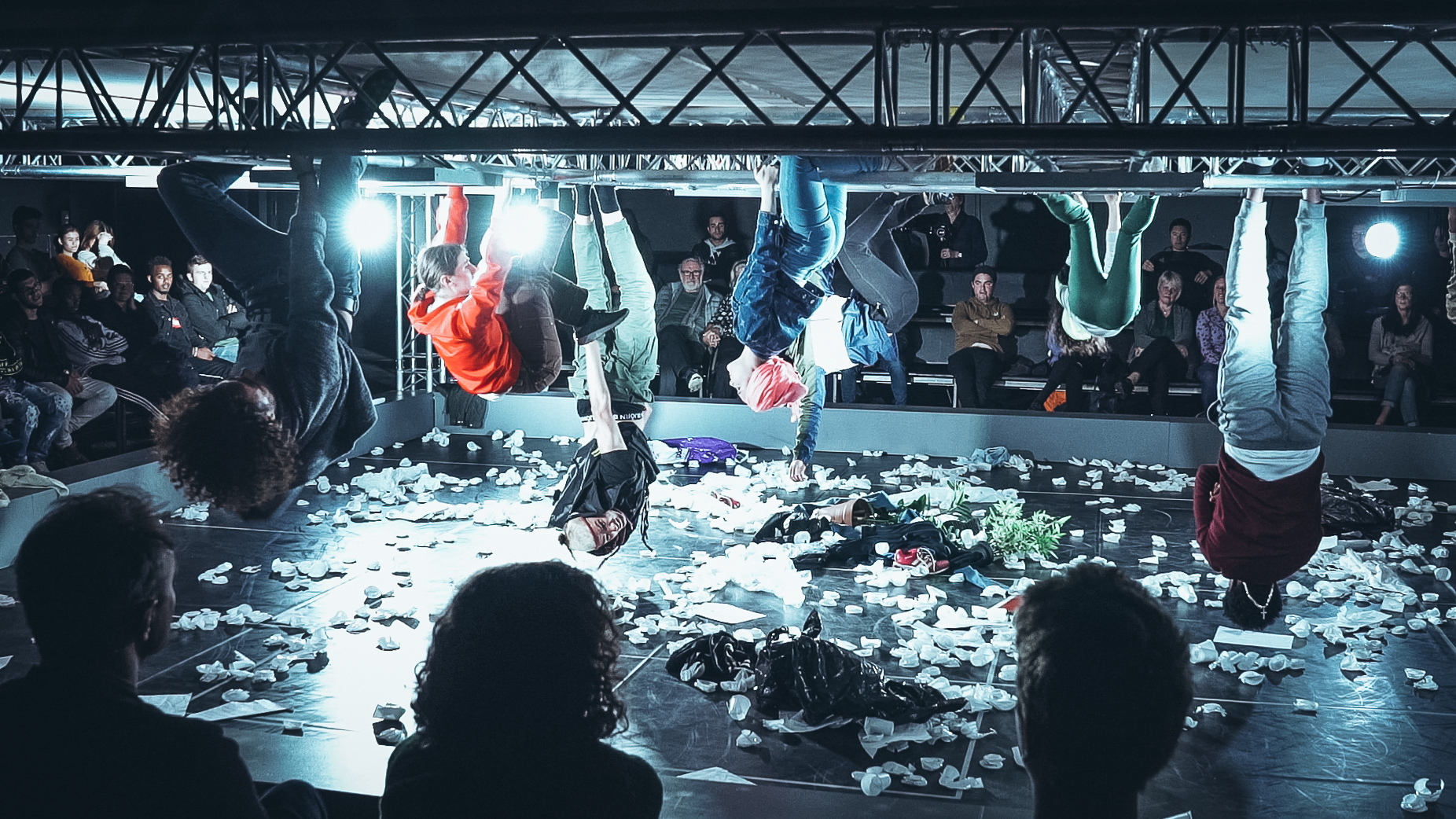 As Adel's piece questions a great deal the relationship between performers and audience, I can't escape discerning a symbolic metaphor related to what's happening currently in our world. What role do we assume concerning the burning issues of our times, the one of the spectator or this of the actor? To my opinion, "Hierarchy of Needs" in its entirety, both in a direct and indirect way, is addressing one of the key questions related to the issue of migration. At what level do contemporary European societies acknowledge the migration issue as their own construct and how are they willing to react on the blowback impact they experience?
Beside the performances, Backa Teater's team has organised a variety of activities during the 3-days festival called "A Changed Europe". "Make your own passport" is one of them. An interactive workshop addressing the issue of 'statelessness' through creative practises and discussion, by Finn Chung from the University of Gothenburg, one of our academic partners in Atlas of Transitions. Another one is "Can culture save the world?", a panel discussion conducted by students from the Master's programme Culture & Democracy (University of Gothenburg) aiming to address the change of cultural context, polarization and migration. The topics are directly connected to next event I am attending, this time not as audience, but as a speaker.
Before the second presentation of "Hierarchy of Needs", an open discussion event with the audience of Backa Teater is organised by Stefan Åkesson, Backa Teater's dramaturgist. He has invited Piersandra Di Matteo – Emilia Romagna Teatro Fondazione (IT), Pawel Sztarbowski – Powszechny Theatre (PL), Mohammad Al Attar (SY), Mattias Andersson – Backa Teater (SE) and myself, to share thoughts on the following topics: What is the impact of migration on arts and culture post 9/11? What cultural dynamics can you identify in the form of conflicts or hybridizations, openings and enclosures? A rich discussion starts, where each speaker shares their insights on the subjects. From the misconception of migration as an invasion and the emergence of new artistic practices and interaction with audiences, mentioned by Piersandra and Mattias, to the rise of 'international nationalism' and cultural war, brought on the table by Pawel and Syria's radical transformation from a country hosting refugees to one that 'exports' them, stated by Mohammad. Our talk allowed many views to be expressed, ranging wide over the subjects, and a broad spectrum of opinion. Members of the audience shared their thoughts as well and our discussion ended, leaving us with a vibrant room full of new ideas and questions regarding our past, present and future as artists, but first and foremost as co-citizens. Later that evening, we have the chance to watch the concert of Syrian-Swedish Kristina Issa and her band, composer of the "Hierarchy of Needs" musical score. Her passionate singing about exclusion, longing, hope and justice, mixed with up-tempo pop music, bring us into an explosion of positive energy flooding Backa Teater's foyer, creating the perfect soundtrack for our evening. I join Cosetta, Piersandra, Serge, Martin and not long after, we head for the hotel.
Go to Part 2/3
3 words for Gothenburg