Powszechny
Theatre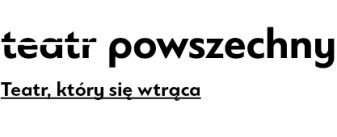 Warsaw, Poland
Powszechny Theater was the first theatre to be opened after WWII in Warsaw. For nearly seventy years it has been a place of artistic discussion about the modern world while simultaneously continuing the legacy of the prominent people of Polish theatre. The Theatre offers a diverse repertoire and focuses on the most interesting Polish and international drama – classical and contemporary.
The Powszechny Theater's interests revolve around two main themes: conservative revolution and re-emerging fundamentalism, class division, and identity – built on division and exclusion, and, most of all, the crisis of democracy and the lack of ideas that should pave the way for the future.
Part of the major activities of Powszechny is the organisation of educational workshops for children, students, and teachers, which encourage the local community to actively participate in the cultural sector by going beyond the theatre's building and carrying out art projects in the city. Equally important is the cooperation with Strefa WolnoSłowa (Free Speech Zone), an organization working with migrants and refugees in Warsaw, which undertakes a number of artistic integration activities and awareness campaigns to fight xenophobia and racism.