Same as last year, Powszechny Theatre is planning a special action for World Refugee Day. This annual celebration was established by the United Nations General Assembly and is held every year in Europe on 20th June. It is a special day dedicated to raise awareness in the public debate and show solidarity towards forcibly displaced people in search of security and better living conditions.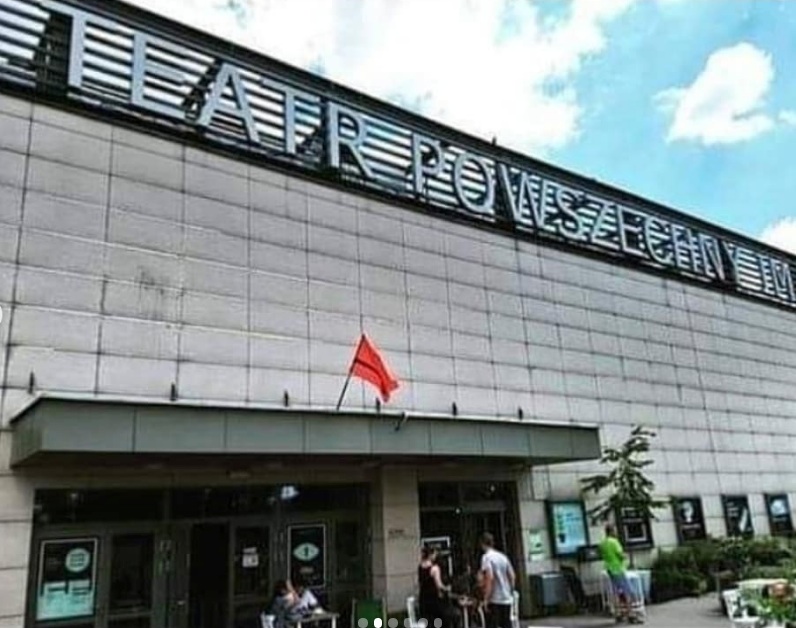 In response to the growing xenophobia, the symbolic meaning of this day gains in importance, just as the responsibility of cultural and educational institutions in promoting democratic values such as respect for diversity, the care of human dignity, empathy, civic responsibility and intercultural dialogue. This is why, besides real help provided to refugees, artistic and educational projects supporting solidarity and tolerance become equally important.
On this occasion Powszechny Theatre in Warsaw will hang out the international refugee flag, designed by Yara Said, an artist of Syrian origin. The orange flag with a black stripe, metaphorically referring to the life jacket, is a symbol of solidarity with all those who are forced to flee from their home countries and risk an exhausting journey in search of security. As a society, over the years, especially in the 19th and 20th centuries, we experienced the fate of refugees too. At that time, many nations sympathised with us and demonstrated empathy by welcoming us to their communities. Therefore, we should not close ourselves to multiculturalism or be afraid of tolerance for otherness. This year, Emilia Romagna Teatro Fondazione  will join the action as well by exhibiting the flag on the front of Arena del Sole Theatre in Bologna.  
Any institution interested in performing that symbolic gesture can ask for a ready-made flag to Powszechny Theatre.