Are you Afraid? Do you want to vocally react?
---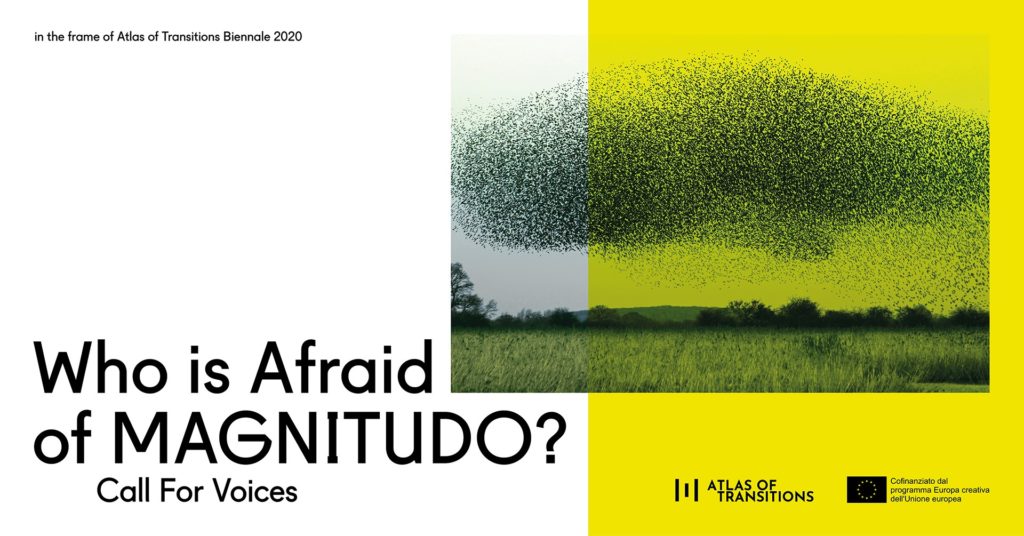 If you are craving to express yourself we give you an opportunity! We are looking for your artistic act of resistance for the new initiative promoted into the frame of Atlas of Transitions Biennial: Who is Afraid of MAGNITUDO? | Call for Voices
MAGNITUDO rises from the desire to gather a multitude in a chorus capable of embracing a common space and time.  It is a participatory project meant to be a large scale urban chorus, a collective act of voicing for public space, performed by inhabitants, citizens, students, people of all backgrounds and ages. At the moment any form of synchronized closeness is prevented, but the need for meeting is more alive than ever.
Before meeting you in the liveness of choral action, we would like to launch a Call for voices:
We invite you to share a signal, whisper, cry, note, silence, vocalized word, breath…
Imagine your vocal expression as a form of tuning into the initial notes of MAGNITUDO composed by Meike Clarelli and Davide Fasulo available at the audio attacched here.
Each vocal segment - lasting up to 45'' - will compose a single sound wave, an acoustic image capable of including everyone's voices. The mosaic of moods, affections, emotional states translated into sound will be the starting point for MAGNITUDO's choral performance.
HOW TO PARTECIPATE
Listen to the soundtrack (through headphones!) by clicking here and follow the instructions.
To record your audio contribution, we ask you to use a recording app on your phone or an external recorder. Do not use Whatsapp's voice message function because the audio quality is too low.
Then, send your registration via email to magnitudo@atlasoftransitions.eu
or via Whatsapp number 339 7767949
or via link FORM ONLINE.
Your phone number won't be recorded. To read the privacy policy click here 
The sound contributions should be sent out within the 22th of May.
Who is Afraid of MAGNITUDO?  
Call for Voices
Artistic direction MEIKE CLARELLI and FEDERICA ROCCHI
Music composition MEIKE CLARELLI and DAVIDE FASULO and ALL YOUR VOICES
A project by COLLETTIVO AMIGDALA for ATLAS OF TRANSITIONS BIENNIAL
Promoted by ERT – EMILIA ROMAGNA TEATRO FONDAZIONE, CANTIERI METICCI with COLLETTIVO AMIGDALA
In collaboration with AFRO WOMEN POETRY, FONDAZIONE INNOVAZIONE URBANA, CENTRO INTERCULTURALE ZONARELLI, COMUNE DI BOLOGNA
With the patronage of QUARTIERE NAVILE and QUARTIERE SAN DONATO-SAN VITALE