In occasion of the World Refugee Day 2018, Powszechny Theatre has planned a special action to be performed during the Art and Society Festival Happy City 2018 (20 June - 1 July) in Warsaw, Poland. The Theatre will display the refugee flag designed by the Syrian artist Yara Said for Amnesty International to mark the participation of the first ever refugee team in the 2016 Olympics. The orange flag, with a black stripe, metaphorically refers to a life jacket as a symbol of solidarity with all those who are forced to flee their home countries in search of security.
Powszechny Theatre invited culture institutions, public offices, and the local organizations helping refugees and asylum seekers to display the flag as well, in order to draw attention to the importance of the World Refugee Day in the country. The response exceeded the expectations. More than 60 institutions will take part in this collective action, including the Palace of Culture and Science, the tallest building in Poland, located in Warsaw city center, which will be illuminated in orange on the 20th June.
In the invitation sent to the institutions, Powszechny Theatre highlighted that the World Refugee Day was established by the UN General Assembly in 2000 to raise awareness of the problems faced by the people forced to leave their home countries as a result of wars, humanitarian crises or political persecutions.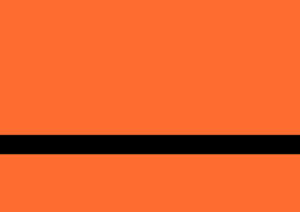 From the official invitation letter: "In connection with the increasing xenophobia and more and more frequent racist attacks, the symbolic meaning of this day is gaining all the more importance in Poland. Cultural, educational and governmental institutions should set the tone for a public debate and promote democratic values: respect for diversity, care for human dignity, empathy and civic responsibility. This is why, besides real help provided to refugees, artistic and educational projects supporting solidarity and tolerance become equally important.
Teatr Powszechny in Warsaw, along with the Strefa WolnoSłowa Foundation and the University of Warsaw Centre of Migration Research, has initiated activities related to the three-year European project 'Atlas of Transitions. New geographies for a cross-cultural Europe', conducted for the promotion of intercultural dialogue and solidarity with refugees, as well as in order to combat prejudice. We are aware, however, that the work of individual institutions is not enough. A broad initiative of different entities promoting a change of individual social attitudes is necessary".