place
Powszechny Theatre, Warsaw, Poland
event
from 04/14/2018 to 04/15/2018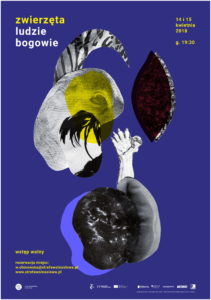 On January 2018, the Strefa WolnoSłowa artistic group started working on 'The Animals', which will be staged at Powszechny Theater on 14th and 15th April. The performance will then be presented in autumn in different locations of Warsaw, such as theaters as well as cultural centres, in collaboration with schools and youth centres. In the work, five actors and dancers are involved, both professional and amateurs, who had previously participated in the intercultural workshops conducted by the Strefa WolnoSłowa group.
The dramaturgy of 'The Animals' is based on the two-month improvisation and theater work inspired by "From animals into Gods. A brief History Of Human Kind", the non-fiction book written by Yuval Noah Harari.
A number of human species used to live on Earth. Until our times, only homo sapiens has survived. After eradicating all the sister species, despite the lack of any physical advantage, they subjugated the world of the other living beings, which were divided into those who deserved to live, those who should live with dignity, and those whose existence would not be tolerated. Homo sapiens set the rules of survival, invented the principles governing the order of things.
FROM THE SHOW'S PRESENTATION: A body is lying on the beach. Seems human but isn't. Seems animal but isn't. The body is moving, making sounds. We're trying to establish communication, using language, gestures, sounds, stories. We're trying to tame it, make it human. Right, but what does it mean to be human? We go back to the source – there used to be several human species on Earth. How did it happen that only Homo sapiens has survived? How and why did Homo sapiens annihilate all the sister species and subjugate the world of other living beings?


From the premiere - Pictures by Marta Ankiersztejn