A conversation with Carolyne Afroetry by Antonella Sinopoli and Gabriele Lippi for the AfroWomenPoetry project.
From April to June 2020, ERT - Emilia Romagna Teatro Fondazione and Cantieri Meticci will collaborate with the Amigdala Collective on the "Magnitudo" project in Bologna. "Magnitudo" is a collective act of voicing engaging inhabitants of any age and ethnic background, singing enthusiasts, students, refugees, vocal groups, in a series of workshops in view of the final performances which will take place on 13th and 14th June 2020 in two public spaces.  The music sheet will be created specially for the occasion by music composers Meike Clarelli and Davide Fasulo, on written words by Ugandan poet Carolyne Afroetry, composed on purpose for the singular and plural voices of Magnitudo. 
If you would like to participate, you can register until 28th March 2020. Find out more here.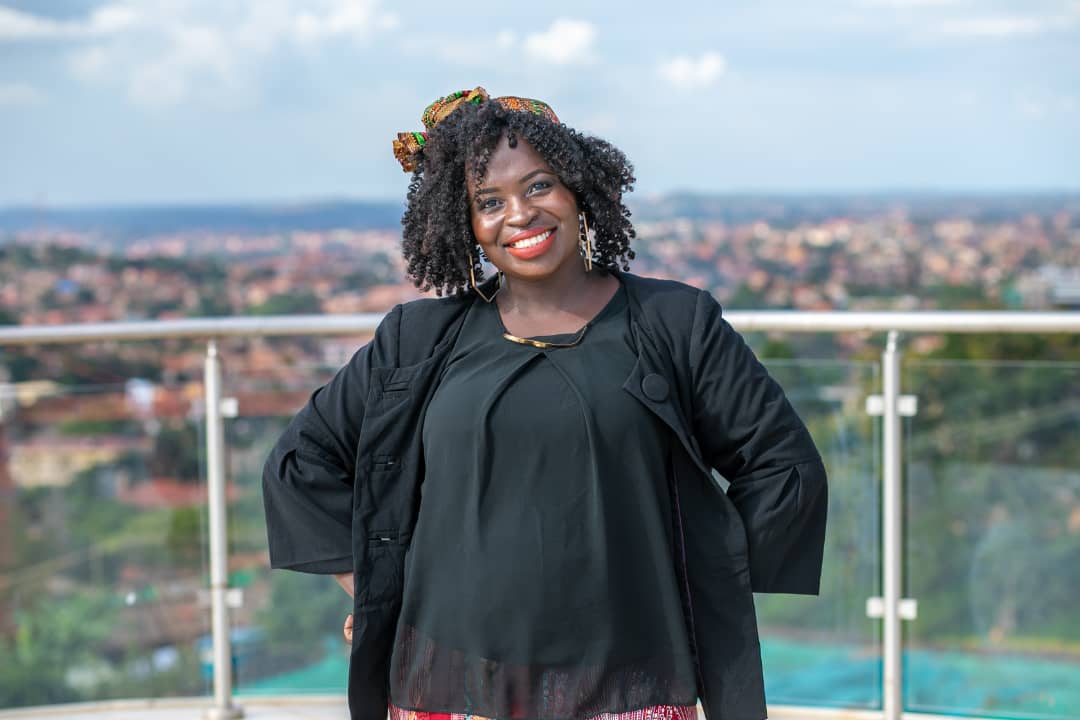 What does being an African woman mean to you?
The African woman is a cultural and historical figure; the root of life's genesis. The embodiment of power, and strength. It would be crazy for me to define, "African woman" from a singular perspective, against the millions of African women that exist, despite the injustices and stereotypes we collectively face. Being an African woman is everything to me. It is wearing the cloak of pride in a world that tells me I am not enough. It is rising above prejudice and stereotypes and changing the narrative. It is strolling through the corridors of injustice with the face of resilience and rewriting my story. It is reliving past atrocities, and constantly fighting patriarchal society. It means being unapologetic in a society where silence is construed as respect and activism is considered a cultural protest. Being an African woman means embracing my uniqueness, and acknowledging my identity.
In your poems we can read the will for a re-appropriation of your own body. Who stole it from you?
Colonialism increased the tax on my body, and leased it out to patriarchal society.My body is not my own- it is a thirsty traveler's stop. It embodies all forms of objectification. It is the reason the rape culture is selectively treated as a fantasy. Regulated, and held in bondage; brutality took the face of empowerment and defamed my body. Stripped of my pride, history was tainted, and i became a woman of conflict. Patriarchal society stole my body, violated it and made me a symbol of trauma and degradation.
One of your poems is about "Hypersexualization of African women". Can you tell us something about this issue?
African women have for a long time been undervalued, exploited and reduced to sexual objects through Objectification and Sexualization. Born in the late eighteenth century in what is now South Africa; the story of Sarah Baartman is one of the most tragic examples of African woman Hypersexualization. She was lured to Europe under a pretentious contract and placed in front of vast crowds across Europe. Her large buttocks were showcased in human freak shows in London and Paris. She inevitably wore the infamous shroud of shame even in death. See, this animalistic portrayal of African women is as old as time. It thrived historically and has painfully adapted to these times. This absurd notion of sexuality is used to justify rape, and to treat women as lesser beings with no control of their bodies. Today, these injustices scream in closed corridors, and open streets. More African women are being abused, and silenced. There are more cases of sexual exploitation blooming in society, and the fetishization of our bodies has drastically increased and has been normalized on the media. The media propagates and feeds it, society consumes these ideologies. The poem, 'Hypersexualization of African women" brings to light the negative depiction of African women as licentious, and having insatiable sexual appetites. It highlights the plight of the African woman today. The blooming stereotypes and societal labels. The need to re-appropriate our bodies. To embrace our sexuality, reclaim our history and say, "enough is enough!" This poem redefines the contextual African Woman and challenges the issue of consent, acceptability, and accountability. African women must rise above the cultural and racial stereotypes and change the biased narrative.
How's the condition of women in Uganda?
The condition of women in Uganda has considerably changed over the years. From a rigid system to a more integrative and accommodative system. Despite the stride towards equality, there are still cases of gender-based violence, genital mutilation, maternal deaths and limited workforce participation. Women in rural areas are mostly affected because they lack most of these services. Their education is limited, and the traditional nuclear family with the man as the sole "breadwinner" thrives considerably.  Most of them are left to languish on the corridors of abuse, absolute poverty and poor health in the presence of tragedy or unfortunate circumstances.
Has Uganda its own #MeToo?
Uganda does not have its own #MeToo Movement. Our society isn't that liberal when it comes to expression. There are few spaces that allow Women to boldly speak up. But even in the presence of these open platforms of expression, most women are hesitant to open up because they are afraid of public scrutiny and judgment. But even then, there are ongoing campaigns about Sexual Harassment all over the country.
Are you into any feminist movement in your country?
I am not into any feminist movement in my country. Though I have contributed to feminist debates, and discussions as a woman, and as a poet verbally, and in written text.
How can Ugandan women fight patriarchal society?
Ugandan women can fight patriarchal society by challenging the traditional nuclear family which situates the man as the leader or 'breadwinner" of the family. Today, there are more single parents and more women are in position to lead their families, and provide for them. This doesn't dismiss the role of a man in a family but allows us to think about gender in new, unconventional ways- away from the singular male dominance, and the submissive choir. The media should be held accountable for sexualized content created to objectify Ugandan women. That includes the movies, and music videos degrading women and reducing them to objects. Patriarchal society thrives because we live in a culture of male entitlement. The cultural norms mostly favor men. Even positions within work places. The sweeping statement that, "boys will be boys" encourages aggressive male behavior, and compels victims of abuse to tolerate pain instead of making men accountable for their actions. Conventional gender paradigms should be addressed. These generally disadvantage women especially in conglomerate society. The belief that men are naturally aggressive and women are the weaker sex encourages male violence, and disrupts the notion of individuality which we all should embrace. Ugandan women can address the conversation on consent and rapists should be held accountable for their actions. 'No means No" principle, should be emphasized to destroy the rape culture mentality which exposes more women to sexual violence. I believe that by disarming the media from propagating stereotypical banter, and Objectification content, the conversation of mutual respect and recognition within our shared humanity will thrive.
Why did you choose poetry as a form of political expression?
"Poetry is ordinary language raised to the Nth power." Paul Engle. I chose poetry as a form of political expression because of the freedom embedded in expression. Poetry is a mirror of our world and arguably the best way to examine human life, and connect with others. It captures our deepest emotions and convictions. Poetry isn't restricted when it comes to content. It is as free as the sunflowers in the field. Historically, poetry has been used as a voice of activism and yardstick for change. Poetry is life itself. It is the blue print of our lives, and experiences. For me, it's more than just crafting words on paper, or resuscitating words trapped on our pages on stage. It is retelling our stories, inspiring others and advocating for change. I chose poetry because it is a powerful means of expression. It has a power to inspire change like no other art form.
Are there many female poets talking about women issues in your country?
There are few female poets talking about women issues in my country. We don't have many bold poets to tackle our issues. Even the most expressive and refined, avoid these topics because of the noose society has tied around their necks. They would rather stick to global topics than talk about women issues.
Is there sexism in Ugandan poetry?
Yes, there is sexism in Ugandan Poetry. Stronger roles are given to men in literary texts, and poems. The Ugandan woman is a fraction of societal inadequacies. Her worth is stripped down in written and spoken poetry. She is the fetishized slay Queen, the proverbial trophy every man wants a piece of. She is the ostracized single mother only good enough for a night, but not cozy for a home. In art spaces, more preference is given to male poets. The voice of the female poet is a whisper on a hill top. There are male poets who are aggressively vocal, and less enthusiastic female poets who feel intimidated. Sexist comments are the unfamiliar tone when the voices of female poets echo through literary pages while society accepts the blaring tone of male poets regardless of content. I feel that female poets are discreetly restricted in their expressive content and judged harshly by society for their truth.
---
Carolyne M. Acen (Afroetry) is a Ugandan Spoken word poet, writer and counselor. She currently manages Echo minds Poets, a group of seven female poets whose aim is to bring women stories to the stage. She is the poet laureate of Womanwords literally press. In 2017 she was shortlisted for the Haiku Africa Competition and competed in the East Africa Poetic Hour competition in Kisumu (Kenya) in 2018. Her poetry has been published in poetry magazines. She is currently working on her first anthology.  She has been featured at Femrite Uganda, 2019 Women's day special at sanyu FM radio, in Kampala; Refugee and Hope International organization, Afro Poetry project at Goethe Zentrum, in Kampala, Echo minds poetry show at the National theatre, Evoke Midnight drum, Kwivuga, Tontoma Women's day poetry performance, Poetry over Bigotry at Mbale.
AfroWomenPoetry is a project funded and directed by journalist Antonella Sinopoli. It was born to promote the internalisation of poetry produced by women of Sub-Saharan African origin. AWP is supported by the Voci Globali newspaper and has diffused more than 133 works written in verse by 43 women poets, slam poets and artists of spoken words from Ghana, Togo, Yvory Coast, Uganda. At the moment the mission continues in other countries of the continent. 
Esther Ruth Mbabazi (Uganda, 1995) is a photographer based in Kampala, Uganda.
As a documentary photographer, Esther uses storytelling and photojournalism to address issues in her society. Coming from a humble background, her work explores changing conditions on the African continent, with a focus on the social, physical and emotional aspects of daily life. Esther is driven to bring to light issues in society that are too often overlooked. Esther's works have been published in The New York Times, TIME Magazine, The Washington Post, Wall Street Journal, Slate, El Pais, and her work has been commissioned by a variety of NGOs and international organisations.