Not only in Europe…interesting events and projects around the world
Melissa Moralli, researcher for Atlas of Transitions, is now doing a period of visiting scholarship at the Institute of Public Knowledge of New York University, where she presented the project on May 1st. During her visit, she is attending different seminars and events on topics such as International migration, borders, political role of arts, cultural diversity. Here a brief description of these interesting projects and seminars, a good occasion to get inspired by the reflections of the artistic and academic community working on the other side of the Atlantic Sea.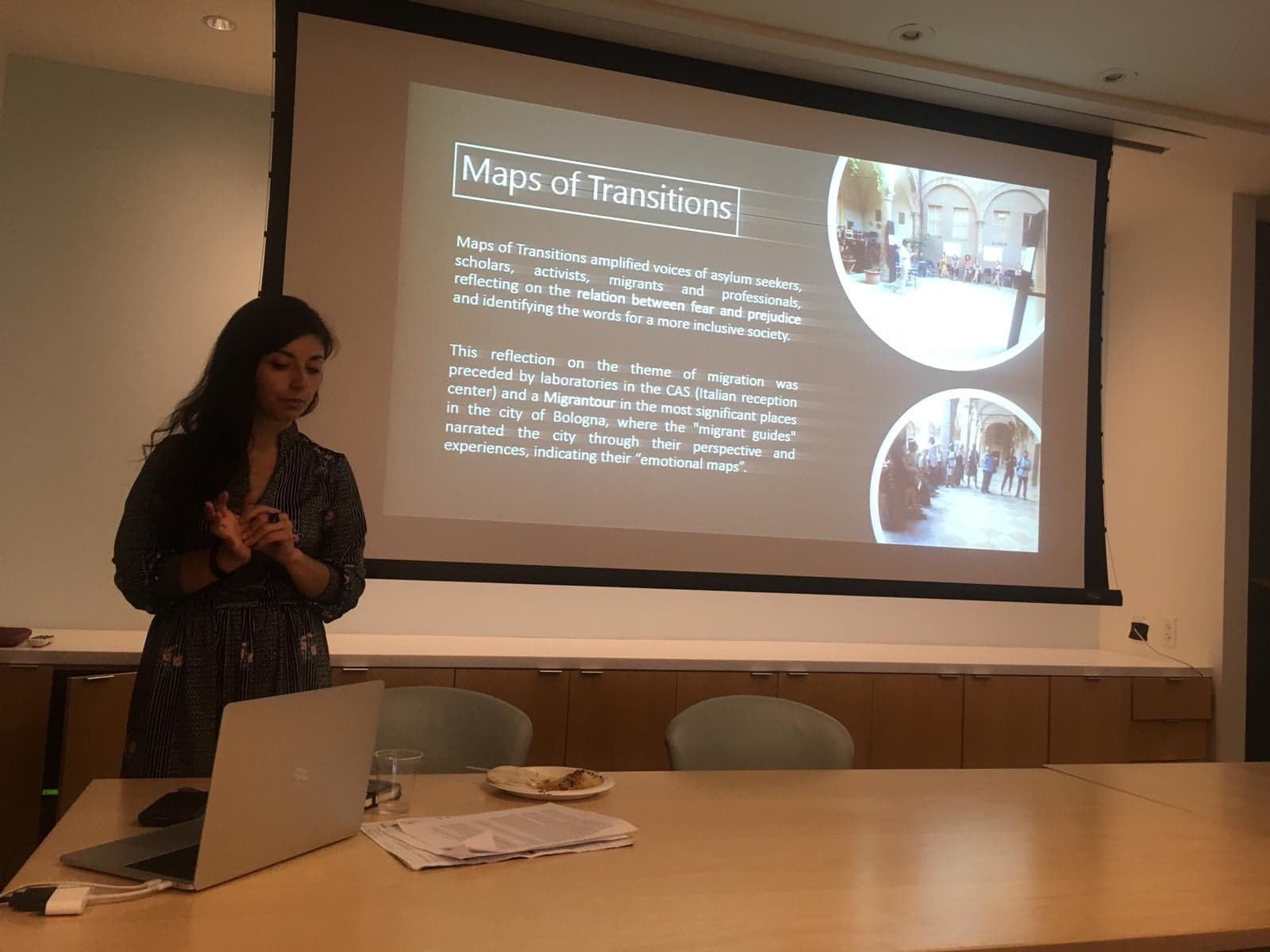 The Ecologies of Migrant Care "is an initiative of the Hemispheric Institute of Performance and Politics at New York University that aims to research, document, and make visible the region-wide humanitarian emergency that is resulting from the ongoing expulsion of refugees and migrants from Central America, and diverse and widespread responses to this situation by individuals, communities of faith, non-governmental organizations, and social movements across the region". This impressive audio-visual archive represents an innovative way to narrate migration through the stories of people working between geopolitical and cultural borders and crossing them. In a special section of the website, artistic intervention related to Central American migration are also presented.
Valor y Cambio (#valorycambio) is a "story-telling, community-building, and solidarity economy project started by the artists Frances Negrón-Muntaner and Sarabel Santos Negrón. The project introduces a "community currency"—pesos of Puerto Rico— that can be adopted autonomously by communities to meet their own needs for cooperation and exchange. The project emerges in response to the island's more than decade-old debt crisis and the punitive austerity measures imposed by the U.S. government since 2016, calling attention to the fact that for almost all of its history Puerto Rico has been denied the right to create its own currency. In February of 2019, a mobile "valorycambio" or VyC machine, an ATM-style device, began traveling to various locations distributing bills and, in return, gathering stories on video about what people value. Each time a person shares a story, he or she received pesos. With these bills in hand, participants were able to receive a discount in more than 40 small businesses in several towns and cities. The pesos feature athletes, activists, writers, and communities that have acted on their values to enrich peoples' lives and in that way asserted that, "change is in our hands" .
The symposium "Sexuality and Borders" (4th-5th April, 2019) was organized by the Department of Media, Culture, and Communication of the New York University. It conceptualized sexuality as a method of bordering and thinks sexuality beyond identity towards its multifarious entanglements with contemporary border regimes. From sexual panics about migrant sexuality, the pornotropic gaze of surveillance technologies, to media discourses about reproduction and contagion, sexuality can be said to play a key role in how borders are policed and managed. At the same time, intimacy, desire, and sexuality have become rallying points in challenging borders as seen in queer activism against deportations, critiques of homonationalism and imaginations of different sexual futures and political horizons. Bringing together scholars from a variety of disciplinary and regional contexts, this symposium aimed to show how sexuality matters for the study of and struggles around borders" .